Multi Email Authentication Plugin Documentation
Plugin Name: Multi Email Authentication
Plugin Type: Authentication
Version: 3.9.9.5
Author: Manuel Pérez Ayala
How it Works
In fact it does exactly the same as the Email Authentication Plugin, except that you are able to add more than one server.
Configuration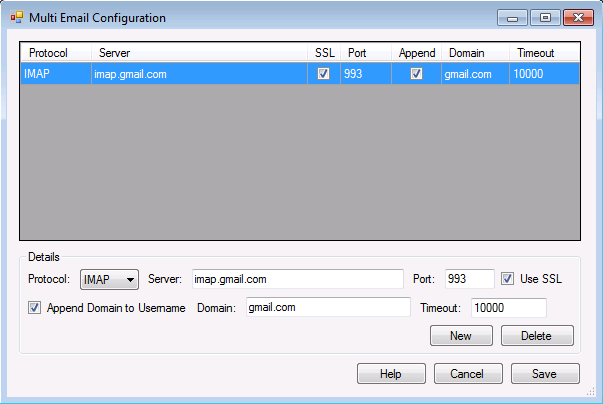 Protocol - The protocol for the server.
Server - The address of the email server that should be authenticated against.
Port - The port used when connecting to the email server.
Use SSL - Whether or not to use SSL encryption when connecting to the server.
Append Domain to username - If checked, the domain specified below will be appended to the username when validating the credentials.
Domain - The domain to append to the username. E.g. For a username 'joe', and a domain 'test.com', the username sent to the email server will be 'joe@test.com'.
Timeout - How long to wait (in ms) until the plugin will timeout the connection.